LED Pen Drive
Dual-Purpose LED Pen Drive
We are introducing the future of data storage combined with writing: our LED Pen Drive with a built-in LED indicator. Precisely crafted, this innovative gadget perfectly combines a pen's functionality with a USB drive. But it doesn't stop at being functional. Our new design offers a standout look that's both stylish and practical.
Pendrive with led indicator – Luminous Logo Display
When you plug the USB pen drive into a computer, your logo lights up, showcasing your brand.
This creates a memorable branding moment that's hard to forget. It's not merely an indicator; it's a display of your brand's brilliance.
Pendrives with LED screen – Streamlined Design
Forget the days when you needed separate tools for writing and storing data. With our LED Pen Drive, you get both in a sleek package. Its ergonomic design ensures writing comfort, while the secure cap safeguards the USB connector.
Pendrive with LED indicator -High-Speed Data Transfer
Armed with cutting-edge USB technology, you can anticipate swift data transfers without hitches. Whether you're storing a presentation, photos, or documents, the LED Pen Drive promises top-tier performance.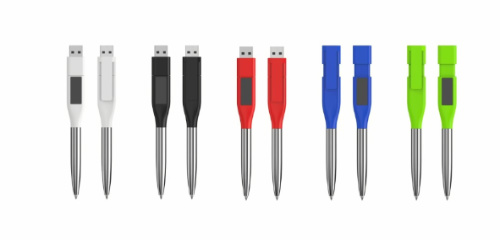 Durable Construction
Made from premium materials, this pen drive is built to resist daily wear and tear. Be it a swift note-taking spree or transferring huge files, rely on the LED Pen Drive's robust nature.
A Touch of Elegance
Available in a refined matte finish, the pen drive radiates professionalism. It's the ideal companion for business executives, students, and tech fans seeking a balance of style and practicality.
Dive into innovation with the pendrive with led indicator– where sophistication meets effectiveness.