USB drives, or flash drives, thumb drives, pen drives, memory sticks - those are all different names for devices that store and transfer data. These devices connect to the data source via a cable or directly through a USB (universal serial bus) port.
As one of the leading custom USB drive manufacturers, Sino-Memory Electronics Co. Limited works with all current USB drive types. 
Here's a practical guide to all kinds of USB sticks available in 2023. 
We won't go deep into the technicalities, though we can - only the cold, hard facts that matter for you as a user of these USB drive types.
USB 2.0
The oldest and the most common type of a USVB drive. USB 2.0 format is compatible with pretty much any device that has a USB port - computers, laptops, TVs, printers, and so on. 2.0 is limited to the transfer speed of 480 Mbps and the capacity of 128 GB though.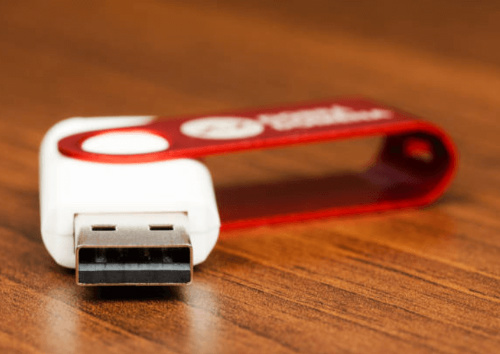 USB 3.0
The improved version of 2.0 - the third one has a max transfer speed of 5 Gbps and 2 TB capacity. Speed and capacity are the main differences between usb 2.0 and 3.0 that matter for you as a consumer.
USB 3.1
Up until recently, the most robust USB drive option. 10 Gbps transfer speed and 2Tb max capacity.
The plug can be the same size as 2 or 3, pay attention to the red-colored ports for the full speed and performance benefits - or it can be a Type C-sized plug.
This type of USB drive is the most rare so far, and our company is one of the few that can manufacture them for you in bulk and with any customization!
Here's an example of a discrete and sleek metal-body
64 Gb Type C 3.1
flash drive that has been really popular with corporate clients.
USB 3.2
The latest, the fastest, and the most capable USB drive type. This USB drive type makes it super-easy to move large files.
For instance, you can transfer a full movie in 4K in under 15 seconds - and it takes less than 25 seconds to transfer 1000 photos with USB 3.2.
Thanks to backward compatibility, you can use USB 3.2 drives with any USB 2.0 or 3.0 port.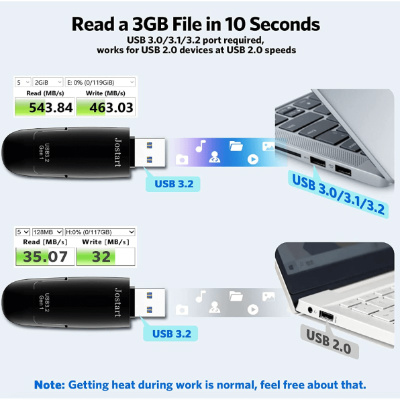 Micro USB
With a max transfer speed of 480 Mbps and 128 GB capacity, this USB format's main feature is the connector's size. It's the smallest connector that is often used in mobile phones, players, cameras, and tablets.
There are MicroUSB flash drives as well, usually the Micro adapter being the dual backup option, but normally you can access any data using a Micro USB port connector.
USB Type-C
A relatively new type of a USB connector that has a reversible plug design. Type-C has a maximum transfer speed of 40 Gbps and a maximum capacity of 100 TB.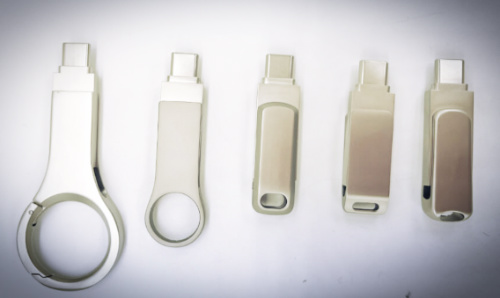 Type-C can also deliver power up to 100 watts, which we all love in our Android phone chargers, and support video output - up to 8K resolution!
USB Type-C is the most versatile and advanced type of USB drive, but it is also the most complex and incompatible with older devices.
This is a proprietary type of USB connector,
exclusively used for Apple devices. While this format is mostly used for cables,
we make Lightning port memory sticks
as well! 
You can always connect a Lightning USB drive to a standard USB port as well - you just need the right adaptor for that.
In fact, certain Apple devices (e.g. post-2018 iPads)
use the Type-C port
, so you may not need a Lightning stick at all.
USB-A vs USB-C
The main difference between the two is the shape of the connector.
USB-A is the standard one-sided rectangular USB connector we're all used to, while USB-C is the newer and more advanced connector with a symmetrical shape. USB-C (finally!) introduced the ability to plug your USB device any side up.
Other than this practical difference, USB Type-C supports more protocols, has higher data transfer speeds and capacities.
USB-C vs Lightning
These drives can be very similar in properties, the main difference is in the shape of the connectors. We produce both types of drives.
If you are challenged by Apple vs generic ports in your company, you can solve the issue with a system of adaptors - or a
customized
order of USB drives with several ports.
If you are unsure which type of USB drive to go with for your purposes,
get in touch with us
!

Being a leader in the space we'll help you out with a knowledgeable, down-to-earth consulting session.